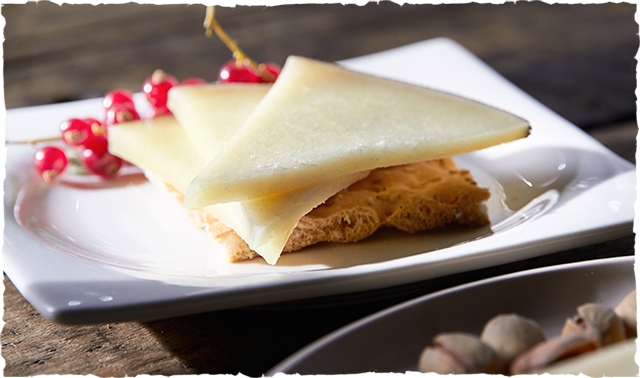 The cheese, king of Spanish "Tapas"
Tapas


A "tapa" in Spain is mainly an appetizer served in most bars and restaurants to go along with a drink. That so Spanish form of consumption is called "tapeo", or "ir de tapas", to go on tapas.

The story of the "tapa" comes from the times of King Alfonso XIII. According to the legend, the King stopped in a tavern for a drink and the tavern's owner covered ("tapar" means to cover) his glass of wine with a slice of cheese to keep out flies or dust from falling inside the glass. The King appreciated so much the association of his drink with something to eat that he decided to always order a "tapa" wherever he was going.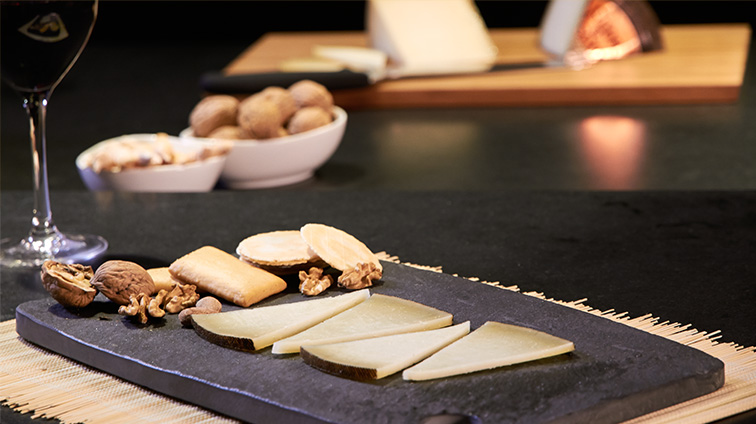 Cheese is a versatile product considered perfect pairing with wine or beer for a "tapas" moment. It is also an essential ingredient of informal dinners in family or with friends, a very Spanish moment of sharing different dishes and products. To fully enjoy its favour, cheese can be tasted with grapes, fig jam, grated tomato, nuts, or olives.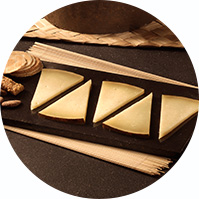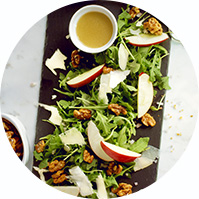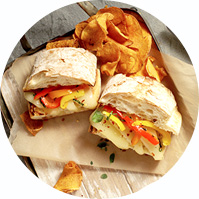 How to cut it
WHY IS IT CUT INTO WEDGES?
Because is it important to start eating cheese from the tender centre and work outwards to the most cured part.
A TRICK!
If you dampen the knife blade with hot water, it will slide through the cheese more easily.
Leave some of the rind on to ensure perfect presentation and total enjoyment of the flavour and aromas of the cheese.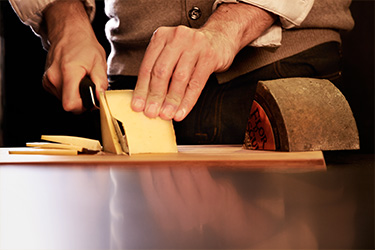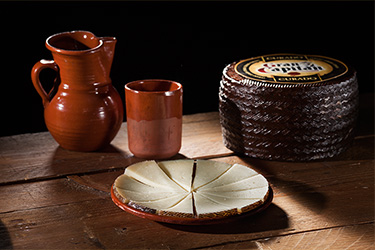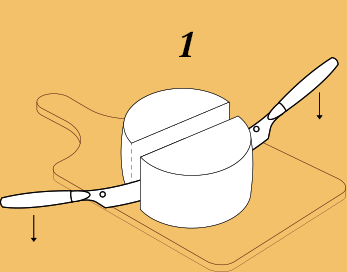 Cut the cheese in half
with a double-handled knife.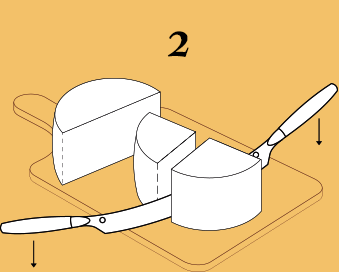 Cut one of the halves
into two wedges.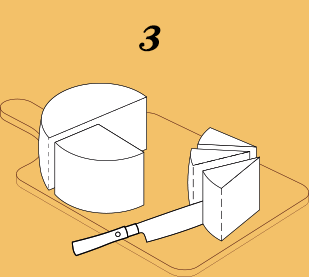 Change to a sharp knife
of about 15 cms long and cut the cheese
into three wedges.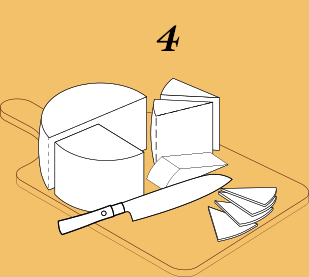 Slice each wedge until you have
obtained a series of flat triangles
about five millimetres thick.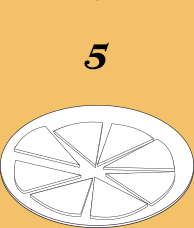 Serve and taste
Storage and consuption
After the cheese has been cut, we recommend wrapping the cheese in waxed paper.

The ideal temperature for storing cheese is between 1º C and 8º C (never over 15ºC).

To enjoy the flavour at its best, before serving leave the cheese to repose about 10 minutes at room temperature.

If the cheese is going to be eaten within a short time leave it outside the fridge, at a temperature of between 16º C and 20º C, and inside a wooden-based cheese dome which protects it from humidity and lets the cheese "breathe".